BEST ONLINE CASINO & SPORTS BOOK
CASINO LIVE DEALERS SPORTS
Hey Guys, here's HOW to get a 100% BONUS of $2,000 Now on your Casino Bets or Sport Bets
Plus, place your World Cup or Football bets here for the Best Odds and Fast Payouts on Sport Bets. Click: SPORTS
All Currencies Accepted
THE BEST ONLINE CASINO & SPORTS BETS Click Here: CASINO & SPORTS
20% Anytime Deposit Bonus
$5,600 Bonuseson your first 4 Deposits
PRESS RELEASE London, UK – 2018
You can BET at one of the world's largest online Casinos. Or Demo for Free
FEATURING: NetEnt Microgaming BetSoft Ezugi 8 Others Evolution
ENJOY over 1,570 of the World's Best Casino Games. 10,000 Sporting Bet Markets Daily
Our Valued Players simply luv the variety of games! You will too.
The best 3-D Slots, JACKPOTS, Blackjack, Roulette, Baccarat, Poker, Live Dealers, Sports, Asian Games and more
We know you will have one of the best Gaming Experiences in the world. VIP Play available
Give us a SPIN to WIN
CLICK HERE TO: PLACE BETS & CASINO GAMES or PLAY FOR FREE
CASINO LIVE DEALERS SPORTS
Refer A Friend & Receive Free Play Equal to their Initial Deposit
Connect: Instagram.com/wickedbet #happy # instagood #photooftheday #beautiful
According to our President, "We truly are thrilled to announce that we have surpassed
our goal of having over 1,500 casino games ready for play.
Our Valued Players simply luv our variety of games! Whether it's 3-D Slots, Progressive JACKPOTS, Old-School Slots, Blackjack, Roulette, Craps, Poker or Asian Games we have something for everyone.
All are available with Live Dealers, especially for our VIP's, or as world class digital games. Come give us a SPIN."
CASINO PROMOTIONS and CASINO BONUSES
PLUS: WICKED Weekend Giveaways and FREE SPINS on JACKPOTS
WIN Theatre Tickets to the musical WICKED
Click On our Promotions Tab
REWARDS
Frequent Players can get Free Spins / Comp Trips / iPhones / SPA
We offer 20% Everyday Deposit Bonuses
Comp Trips to VEGAS / Free Spins / iPhone iPads / SPA Days / Hotel Stays / BONUS Play
FREE SPINS on JACKPOTS awarded regularly
Click To: REWARDS
High Roller Wagering / REWARDS / Comps like Vegas Trips. VIP Host.
Unlimited Wager Approval.
Our Live Dealers accept up to $5,000 Bets per hand without approval
Our SportsBook accepts $4,000 (or Euro, GBP ) without approval
Want $10,000 bet approval per hand, no worries, join our VIP Club
FIFA WORLD CUP & FOOTBALL BEST ODDS
World Cup FIFA 2018 and FOOTBALL Best Odds & Fastest Payouts
Click Here: https://www.wickedbet.com/sports/
SPORTS: THE BEST HANDICAP TIPS
FREE PLAY or PROGRESSIVE JACKPOTS
FREE PLAY
Countries: ALL Markets excluding USA, Italy, France & Netherlands until further notice. Includes Europe, United Kingdom, U.K., Germany, China, Japan, Asia, South America, Mexico, Brazil, India and many more
Currencies: ALL Currencies are available. Primary are USD, GBP, EURO. ALSO: Chinese Yuan, Japanese Yen, British Pound, Swiss Franc, Dollar, Chilean Peso, Mexican Peso, Krone, Krona
Languages: ALL are available. Primary is English. Others include: Mandarin, Hindustani, Spanish, Arabic, Malay, Russian, Bengali, French, Portuguese, Hindi, Japanese, Lahnda, Javanese, German, Korean, Tamil, Vietnamese, Urdu and more
Payment Methods: Visa, MasterCard, Amex, Bitcoin, JCB, Union Pay, Skrill, Neteller, U Kash, Paysafe
Withdrawal Limits: a) Bank Wire Transfer & Bitcoin $100,000 Daily USD/GBP/EURO +
b) Skrill & Neteller $5,000 GBP/Euro per transaction
CASINO or SPORT BET GAMES : Lets Sound Our Own Horn
Our Casino offers Blackjack, Roulette, Baccarat, Poker, Asian Games
Dragon Tiger, Pai Gow, Sports Bet, Slots and so much more.
We also cater to Women who like to bet on blackjack, casino roulette, poker, sportsbook and sports betting who also enjoy online gambling.
Many of our casino players and VIP enjoy: football, betting, online slots, casino game, slots, casinos online slot machine games, roulette, casino free slots, and all games from a great online casino.
We also specialize in: horse racing, table games, casino on line with the best games like video poker, 3D Slots, sports book, slot machines, slot games, free casino games, poker, online slot, online roulette, and for players who like to play roulette or online and texas holdem poker.
We can also accept: football bet, casino roulette, online poker, most online betting and of course bets on blackjack with good online casino bonus and have the best online casino games in our view with the best games.
Many players prefer to bet on soccer or football, some like lottery or just free online slots or roulette game. We do rate ourselves as one of the best online casino and as a great casino with super games like: slots, VIP, casino and sport bets and craps. You can bet on Football or Soccer, FI or Formula One, World Cup, NHL, MLB, NBA, NFL, Premier League or Champions League, Golf, Motor Racing like NASCAR or Indy, Cricket, Horse Racing with over 10,000 Sport Markets daily.
We offer really good sport odds and fast payouts. Instead of going to a casino near you visit us online. Whether you are in London, Tokyo, Beijing, Hong Kong, Europe, Spain, India, South America, Mexico, RIO in Brazil, Las Vegas, Macau or other parts of the world you can bet here with confidence.
You might like a Dealer on live dealers instead of going to a London Casino,
Europe Casino or a Casino Brazil.
GOOD LUCK ON YOUR BETS
WE HOPE YOU WIN BIG AT WICKEDBET
See our Terms and Game Terms and Promotions tabs on our sites. Always game and gamble responsibly and always play within your limit. You must be of an age of majority. There are no guarantees offered when gaming. Restrictions may apply. We reserve the right to change or cancel any promotion at any time without notice.
TOP ONLINE CASINO JURISDICTIONS RATED Per iGamingDirectory.com 2018
1. United Kingdom 1,172 Registered
2. Malta 626
3. Gibraltar 454
4. Curacao 920
5. Kenza 16
CASINO REVIEW
BY AN INDEPENDENT CASINO REVIEW AGENCY
WickedBet Casino
PLAY POPULAR GAME TITLES ON WICKEDBET CASINO
The gaming portal even lets you access the rich gaming library on your mobile devices. This mobile compatibility feature allows you to play your preferred games anywhere. Find out more about how WickedBet Casino can give you world-class gaming experience with the help of this casino review.
BONUSES AND PROMOTIONS
Once you open an account with this betting site, you get 100% bonus up to US$2,000 on your first deposit. On your second deposit, get 50% up to US$1,000.
A 30% bonus up to US$600 is yours on your third deposit. This time, you have to bet at least eight times and play a bonus game before you can cash out your winnings. If you wish to receive the 100% bonus again, make your fourth deposit.
Other than those, you can get a 20% bonus up to US$400 by depositing Bitcoin. You get the same bonus once you make a deposit using Neteller, Skrill, or credit/debit card. There are also special bonuses offered every month. Wait for the betting site to email you to get updates on WickedBet's latest Bitcoin casino bonuses.
More so, you can enjoy the massive US$4,000 and US$5,000 bets per hand. But if you join the VIP program, you can maximize the unlimited bets per hand to at least US$10,000. To make things better, this program allows you to make big withdrawals and deposits.
GAMES AND SOFTWARE
The betting site has two divisions: casino and sportsbook. The casino has over 1,200 casino games while the sportsbook has more than 10,000 sports games. You can even play lottery here. Games like Bitcoin slots, blackjack, roulette, punto banco, scratch, baccarat, and poker are available in the casino. You can also play live dealer games here. With the various gaming titles that you can play here, you are sure to have a great time.
The gaming portal works with the best software providers, like BetSoft, NetEnt, and Microgaming, Evoultion, among others. You will surely not run out of game choices to play. To start your betting adventure onsite, all you have to do is click the Sign-up button.
BANKING METHODS
The gaming portal offers you various payment methods—Visa, MasterCard, Amex, and U Kash. You may also use Neteller and Skrill as well as Bitcoin for instant and charge-free transactions.
On the other hand, withdrawal processes will depend on your chosen payment method. The maximum process time is five days. But before you can cash out, take note that there is a minimum deposit and minimum withdrawal requirement of US$20.
SUPPORT
The casino makes sure that your needs are prioritized, this is why the player assistance team is available 24/7. The gaming portal provided you with an FAQ page for your questions. But if you have other inquiries not found on the page, feel free to contact the email support. For a faster response, turn to the phone support provided by the betting site.
Once you register with WickedBet Casino, you will be provided with the best services. Expect a gaming experience unlike any other. Register with this betting site to play great games with amazing prizes.
100% Bonus Up To $£€2,000
CASINO REVIEW BY: best bitcoin casino sites.com 2018
BLACKJACK STRATEGY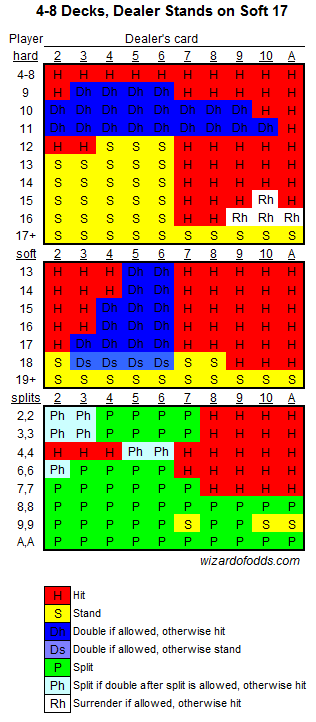 Never take insurance or "even money."
If there is no row for splitting (fives and tens), then look up your hand as a hard total (10 or 20).
If you can't split because of a limit on re-splitting, then look up your hand as a hard total.
If you play a mixture of six-deck games, some where the dealer hits a soft 17, and some where he stands, and you only wish to memorize one strategy, I would recommend you memorize the one where the dealer stands on soft 17. The cost in errors due to playing the wrong strategy is 2.3 times higher playing a stand on soft 17 game, with the hit on 17 strategy, than vise versa.
Surrender
Surrender hard 16 (but not a pair of 8s) vs. dealer 9, 10, or A, and hard 15 vs. dealer 10.
Split
Always split aces and 8s.
Never split 5s and 10s.
Split 2s and 3s against a dealer 4-7, and against a 2 or 3 if DAS is allowed.
Split 4s only if DAS is allowed and the dealer shows a 5 or 6.
Split 6s against a dealer 3-6, and against a 2 if DAS is allowed.
Split 7s against a dealer 2-7.
Split 9s against a dealer 2-6 or 8-9.
Double
Double hard 9 vs. dealer 3-6.
Double hard 10 except against a dealer 10 or A.
Double hard 11 except against a dealer A.
Double soft 13 or 14 vs. dealer 5-6.
Double soft 15 or 16 vs. dealer 4-6.
Double soft 17 or 18 vs. dealer 3-6.
Hit or Stand
Always hit hard 11 or less.
Stand on hard 12 against a dealer 4-6, otherwise hit.
Stand on hard 13-16 against a dealer 2-6, otherwise hit.
Always stand on hard 17 or more.
Always hit soft 17 or less.
Stand on soft 18 except hit against a dealer 9, 10, or A.
Always stand on soft 19 or more.
As I've said many times, the above strategy will be fine under any set of rules. However, for you perfectionists out there, here are the modifications to make if the dealer hits a soft 17.
Surrender 15, a pair of 8s, and 17 vs. dealer A.
Double 11 vs. dealer A.
Double soft 18 vs. dealer 2.
Double soft 19 vs. dealer 6.
Poker is a popular card game that combines elements of chance and strategy. There are various styles of poker, all of which share an objective of presenting the least probable or highest-scoring hand. A poker hand is a configuration of five cards, either held entirely by a player or drawn partly from a number of shared, community cards. Players bet on their hands in a number of rounds as cards are drawn, employing various mathematical and intuitive strategies in an attempt to better opponents.
Given the game's many different forms and various dynamics, poker strategy becomes a complex subject. This article attempts to introduce only the basic strategy concepts.
The fundamental theorem of poker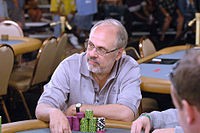 David Sklansky at the World Series of Poker
The fundamental theorem of poker, introduced by David Sklansky, states: Every time you play your hand the way you would if you could see your opponents' cards, you gain, and every time your opponents play their cards differently from the way they would play them if they could see your cards, you gain.[1] This theorem is the foundation for many pokerstrategy topics. For example, bluffing and slow-playing (explained below) are examples of using deception to induce your opponents to play differently from how they would if they could see your cards. There are some exceptions to the fundamental theorem in certain multi-way pot situations, as described in Morton's theorem.
Pot odds, implied odds and poker probabilities
The relationship between pot odds and odds of winning is one of the most important concepts in poker strategy. Pot odds are the ratio of the size of the pot to the size of the bet required to stay in the pot.[1] For example, if a player must call $10 for a chance to win a $40 pot (not including their $10 call), their pot odds are 4-to-1. To have a positive expectation, a player's odds of winning must be better than their pot odds. If the player's odds of winning are also 4-to-1 (20% chance of winning), their expected return is to break even (on average, losing four times and winning once for every five times they play such a pot).
Implied odds is a more complicated concept, though related to pot odds. The implied odds on a hand are based not on the money currently in the pot, but on the expected size of the pot at the end of the hand. When facing an even money situation (like the one described in the previous paragraph) and holding a strong drawing hand (say a Four flush) a skilled player will consider calling a bet or even opening based on their implied odds. This is particularly true in multi-way pots, where it is likely that one or more opponents will call all the way to showdown.
By employing deception, a poker player hopes to induce their opponent(s) to act differently from how they would if they could see their cards. David Sklansky has argued that winning at poker is often decided by how much one player can force another to change his/her style while successfully maintaining their own strategy.[2] Bluffing is a form of deception where players bet strongly on a weak hand to induce opponents to fold superior hands. Related is the semi-bluff, in which a player who does not have a strong hand, but has a chance to improve it to a strong hand in later rounds, bets strongly on the hand in the hopes of inducing other players with weaker "made" hands to fold. Slow-playing is deceptive play in poker that is roughly the opposite of bluffing: checking or betting weakly with a strong holding, attempting to induce other players with weaker hands to call or raise the bet instead of folding, to increase the payout.
Position refers to the order in which players are seated around the table and the strategic consequences of this. Generally, players in earlier position (who have to act first) need stronger hands to bet/raise or call than players in later position. For example, if there are five opponents yet to act behind a player, there is a greater chance one of the yet to act opponents will have a better hand than if there were only one opponent yet to act. Being in late position is an advantage because a player gets to see how their opponents in earlier position act (which provides the player more information about their hands than they have about his). This information, coupled with a low bet to a late player, may allow the player to "limp in" with a weaker hand when they would have folded the same hand if they'd had to act earlier. Position is one of the most vital elements to understand in order to be a long-term winning player. As a player's position improves, so too does the range of cards with which they can profitably enter a hand. Conversely this commonly held knowledge can be used to an intelligent poker player's advantage. If playing against observant opponents, then a raise with any two cards can 'steal the blinds,' if executed against passive players at the right time.
Unlike calling, raising has an extra way to win: opponents may fold. An opening bet may be considered a raise from a strategy perspective. David Sklansky gives seven reasons for raising, summarized below.[1]
· To get more money in the pot when a player has the best hand: If a player has the best hand, raising for value enables them to win a bigger pot.
· To drive out opponents when a player has the best hand: If a player has a made hand, raising may protect their hand by driving out opponents with drawing hands who may otherwise improve to a better hand.
· To bluff A player raises with an inferior or "trash" hand attempts to deceive other players about the strength of their hand, and hopefully induce a better hand to fold.
· To semi-bluff A player with a drawing hand may raise both to bluff and for value. While technically still a bluff, as the player may not end up with a made hand and is primarily trying to drive out players, the player still has the opportunity to make his or her hand and win the pot if the bluff is called.
· To block Players on drawing hands may put out a "blocking bet" against players who are likely to bet when checked to, but unlikely to raise when bet into. This is a small bet made on a drawing hand to lessen the likelihood of having to call a larger bet from a player in late position.
· To get a free card: If a player raises with a drawing hand, their opponent may call the bet and check to them on the next betting round, giving them a chance to get a free card to improve their hand.
· To gain information: If a player raises with an uncertain hand, they gain information about the strength of their opponent's hand if they are called. Players may use an opening bet on a later betting round (probe or continuation bets) to gain information by being called or raised (or may win the pot immediately).
· To drive out worse hands when a player's own hand may be second best: A combination protection and probe raise, a player with a strong hand but not the "nuts" (the hole cards that make the best possible hand given the current face-up cards) may raise, both to induce drawing hands that may improve to the "nut hand" to fold, while also testing to see if another player has the "nuts".
· To drive out better hands when a drawing hand bets: If an opponent with an apparent drawing hand has bet before the player to act, if the player raises, opponents behind them who may have a better hand may fold rather than call two bets "cold". This is a form of isolation play, and has elements of blocking and protection.
There are several reasons for calling a bet or raise, summarized below.
· To see more cards: With a drawing hand, a player may be receiving the correct pot odds with the call to see more cards.
· To limit loss in equity: Calling may be appropriate when a player has adequate pot odds to call but will lose equity on additional money contributed to the pot with a raise.
· To avoid a re-raise: Only calling (and not raising) denies the original bettor the option of re-raising. However, this is only completely safe in case the player is last to act (i.e. "closing the action").
· To conceal the strength of a player's hand: If a player has a very strong hand, they might smooth call on an early betting round to avoid giving away the strength of their hand on the hope of getting more money into the pot in later betting rounds.
· To manipulate pot odds: By calling (not raising), a player offers any opponents yet to act behind them more favorable pot odds to also call. For example, if a player has a very strong hand, a smooth call may encourage opponents behind them to overcall or even raise, building the pot. Particularly in limit games, building the pot in an earlier betting round may induce opponents to call future bets in later betting rounds because of the pot odds they will be receiving.
· To set up a bluff on a later betting round: Sometimes referred to as a long-ball bluff, calling on an earlier betting round can set up a bluff (or semi-bluff) on a later betting round. For instance, a player with a strong initial hand may call instead of raise to see the flop cheaply. That flop may not benefit the player, but the player may still have many "outs" (cards left to deal that could make a strong hand), or even if the odds are slim they can try to bluff. By raising, this scenario may appear to an opponent like a player who has "limped in" with a weak initial hand, but after the flop now has a strong made or drawing hand. A recent online term for "long-ball bluffing" is floating.
The gap concept states that a player needs a better hand to play against someone who has already opened (or raised) the betting than he would need to open himself.[4] The gap concept reflects that players prefer to avoid confrontations with other players who have already indicated strength, and that calling only has one way to win (by having the best hand), whereas opening may also win immediately if your opponent(s) fold.
Related to the gap effect, the sandwich effect states that a player needs a stronger hand to stay in a pot when there are opponents yet to act behind him.[3] Because the player does not know how many opponents will be involved in the pot or whether he will have to call a re-raise, he does not know what his effective pot odds actually are. Therefore, a stronger hand is desired as compensation for this uncertainty. A squeeze play exploits this principle.
Loose players play relatively more hands and tend to continue with weaker hands; hence they do not often fold. Tight players play relatively fewer hands and tend not to continue with weaker hands; hence they often fold. The following concepts are applicable in loose games (and their inverse in tight games):[1]
· Bluffs and semi-bluffs are less effective because loose opponents are less likely to fold.
· Requirements for continuing with made hands may be lower because loose players may also be playing lower value hands.
· Drawing to incomplete hands, like flushes, tends to be more valuable as draws will often get favorable pot odds and a stronger hand (rather than merely one pair) is often required to win in multi-way pots.
Aggressive play refers to betting and raising. Passive play refers to checking and calling. Unless passive play is being used deceptively as mentioned above, aggressive play is generally considered stronger than passive play because of the bluff value of bets and raises and because it offers more opportunities for your opponents to make mistakes.
Hand reading, tells and leveling
Hand reading is the process of making educated guesses about the possible cards an opponent may hold, based on the sequence of actions in the pot. The term 'hand reading' is actually a misnomer, as skilled players do not attempt to assign a player to an exact hand. Rather they attempt to narrow the possibilities down to a range of probable hands based on the past actions of their opponent, during both the current hand and previous hands played by this opponent.
Tells are detectable changes in opponents' behavior or demeanor which provide clues about their hands or their intentions. Educated guesses about opponents' cards and intentions can help a player avoid mistakes in his own play, induce mistakes by the opponents, or influence the opponents to take actions that they would not normally take under the circumstances. For example, a tell might suggest that an opponent has missed a draw, so a player seeing it may decide a bluff would be more effective than usual.
Leveling or multiple level thinking is accounting for what the other opponents think about the hands. This information can then be used to the player's advantage. Some players might be able to make educated guesses about opponents' hands; this could be seen as the first level. The second level could be thought of as the combination of the first level and deducing what the opponents think the player's hand may be. Skilled players can adjust their game play to be on a higher level than that of less skilled opponents.
Table image and opponent profiling
By observing the tendencies and patterns of one's opponents, one can make more educated guesses about others' potential holdings. For example, if a player has been playing extremely tightly (playing very few hands), then when he/she finally enters a pot, one may surmise that he/she has stronger than average cards. One's table image is the perception by one's opponents of one's own pattern of play. A player can leverage their table image by playing out of character, and thereby inducing his/her opponents to misjudge his/her hand and make a mistake.
In live poker, as opposed to internet, stereotypes are often used for initial 'reads'. For instance, people of retirement age are often witnessed to play tight. Players will often project this image on unknown people of retirement age. Young people wearing headphones and hoodies are often witnessed to play more aggressively and mathematically if they played a lot of winning internet poker. These stereotypes can often be good bases to start a profile.
Often, there is a rather small pool of players in a given card playing venue. People will carry their history of playing with them in these environments.
Internet poker players can use large databases of hand histories to get a more precise player profile. Statistical information about opponents is displayed on the tables in the form of a heads up display. The most commonly used software is PokerTracker and Hold'em Manager.
Players' equity in a pot is their expected share of the pot, expressed either as a percentage (probability of winning) or expected value (amount of pot * probability of winning). Negative equity, or loss in equity, occurs when contributing to a pot with a probability of winning less than 1 / (number of opponents matching the contribution+1).
Example
Alice contributes $12 to a pot and is matched by two other opponents. Alice's $12 contribution "bought" the chance to win $36. If Alice's probability of winning is 50%, her equity in the $36 pot is $18 (a gain in equity because her $12 is now "worth" $18). If her probability of winning is only 10%, Alice loses equity because her $12 is now only "worth" $3.60 (amount of pot * probability of winning).
If there is already money in the pot, the pot odds associated with a particular play may indicate a positive expected value even though it may have negative equity.[example needed]
Texas hold 'em example
Alice holds J♦8♠. Bob holds K♥7♠. After the flop, the board is 5♥6♥7♦. If both hands are played to a showdown, Alice has a 45% chance to win (which she is unaware of, because she does not know what hand Bob holds), Bob has a 53% chance to win and there is a 2% chance to split the pot. The pot currently has $51. Alice goes all-in for $45 reasoning that she can take the pot immediately if Bob folds or that Bob calls with a worse hand. Bob's simple pot odds for the call are also 32%; since his equity of 53% is greater than the pot odds he has to call, Bob has a positive expected value for the call (if he knew Alice's hole cards).
Short-handed considerations
When playing short-handed (at a table with 3-6 players), players must loosen up their play (play more hands) for several reasons:[1]
· There is less likelihood of another player having a strong hand because there are fewer players.
· Each player's share of the forced bets increases because there are fewer players contributing to the forced bets, thus waiting for premium hands becomes more expensive.
This type of situation comes up most often in tournament style play. In a cash game, the adjustments are very similar, but not quite as drastic as the table can ask for what is known as a 'rake break.' A rake break occurs when the floor-man, who represents the casino, agrees to take a smaller portion than usual for the hand. For example, a random casino might normally receive 10% of the pot up to 5 dollars for a 'rake.' In this case the table would only owe 10% up to 3 dollars until there are a sufficient number of players again. In online poker rake breaks are determined automatically.
The blinds and antes and limit structure of the game have a significant influence on poker strategy. For example, it is easier to manipulate pot odds in no-limit and pot-limit games than in limit games. In tournaments, as the size of the forced bets relative to the chip stacks grows, pressure is placed on players to play pots to avoid being anted/blinded away.
In 2014, Bwin conducted a study to see what makes a professional poker player. The brain activity of poker players, of varying degrees, was monitored using EEG headsets and visualised into brain maps.[6] Leading sports psychologist, James Hazlett, then interpreted the findings:
· More experienced players showed higher levels of focus and concentration throughout the game.
· The amateur players had less control over their emotions, and were prone to allowing negative emotions, such as frustration, distract them.
· Whilst opponents were taking their turn, the expert players opened up another table or watched replays of hands they had played poorly to improve.
· The brain maps showed that the professional players were led more by logic and intuition.
The conclusions of the study suggest that poker players can improve their strategy by considering their mindset. Mental training techniques, commonly used by athletes, could therefore help to improve performance by working on elements such as self-control and concentration.
From Wikipedia, the free encyclopedia. This information above is provided by Wikipedia 2018.
Elite VIP Club Members
JOIN NOW: Admin@WickedBET.com
You May Qualify For Approval
* Think of this as your personalized invitation into first class gaming: Our exclusive VIP Elite Club is for members only, and accommodates all of your High Wager needs.
* Want your Betting Limits Increased? No Worries. Just ASK by clicking here: Admin@wickedbet.com. Tell us what games you play, what dollar limits you require and your anticipated wagers. Will we review your application ASAP for VIP Play and also for Club Membership.* Your VIP Elite Host will take care of you.
* Our LIVE DEALERS ensure you can wager from $2,500 to $5,000 per hand without approval. Our SportsBook also accepts $4,000 Bets without approval.
* REWARDS: Our VIP Elite Club Members may qualify for Comps like Trips to Vegas or Macau, trips to attend our VIP Events, Gifts, Exclusive VIP Bonuses, Free Spins, Receive our VIP Recommended Sports Bets, Special Offers, Special Elite VIP Host to look after your every need; and always gamble right at the "front of the line" as a Club Member at WickedBet.
* We appreciate your business and will do everything we can to not only earn it, but to also keep you as a VIP Elite Club Member.
We Look Forward To Approving You For VIP Elite Club Membership Today
JOIN NOW OUR VIP CLUB
WORLD CUP
BETTING TIPS & BETTING STRATEGY: FOOTBALL
The 2018 edition of the World Cup will take place from June 14 to July 15, 2018 in Russia, and will be the biggest sporting event of the decade. What are the groups and Who are the favorites? How does the competition work? What are the best odds for betting? Here are some suggested strategies and tips to follow.
How the World Cup Works:
Before getting to the important aspect, let's remember how the World Cup works. Regarding the format of the competition: 32 countries are divided into 8 groups of four, the first two are qualified at the end of the three group matches. In the same group, each country faces each member, in Russia during 2018.
Once qualifiers are known, the round of 16 starts with the 16 best teams of the tournament. Then the format is the same, the eight winners qualify for the quarter-finals, for the semi-finals and the final. On July 15th at the Luzhniki stadium of Moscow, Russia the final will take place. Four years ago, Germany won the 2014 World Cup in dramatic fashion.
OUR SUGGESTED FAVORITES FOR THE 2018 WORLD CUP:
WHO to focus on as the favourites for the final on July 15th:
Germany, Brazil, France and Spain are the four nations voted by Handicappers and Bettors. BUT WE THINK THERE MAYBE ANOTHER WINNER: SEE BELOW.
Germany - could this be their Second consecutive win? Possible but hard to achieve and we don't think they can win this time out in the World Cup.
Positioned in a group largely within their reach, the Germans should manage to take first place in their group. After that, Löw's men will be able to fall either against Switzerland or Serbia according to the predictions. Opponents again within their reach. The dynamic could be good for the World Champions in title, who are also able to beat anyone on a match. The man to watch will undoubtedly be the young striker Timo Werner, the eternal Thomas Müller who can become the top scorer in the history of the competition - the Bayern player must score six goals - and of course Manuel Neuer, the most talented goalkeeper in the world. In the opinion of many, a tip on a German victory would be possible. BUT dont count out BRAZIL.
WE LIKE: BELGIUM or FRANCE to WIN
CROATIA is a possible Good Bet
How to predict the Football World Cup? Study the shape of players before the World Cup
Watch carefully the groups of the first round. Analyze the potential opponents of the teams
Consider the history of nations. Do not play under the influence of emotion
To continue your analysis on the tournament and prepare your bets on the 2018 World Cup football:
WE RECOMEND FOR THE BEST COMPETITIVE ODDS TO PLACE YOUR BETS AT: WickedBET.com
The FIFA World Cup 2018 Groups:
After qualifying campaigns finish, the best nations of the world have qualified for the group stage of the 2018 World Cup. What were the draws? Who is favorite to finish at the top of his group? To finish second? Who to bet on during this initial phase? We give you our suggeted tips.
Group A - Russia, Egypt, Uruguay, Saudi Arabia
In this first group, we already have the traditional presence of the host country, Russia. Not blazing at the last Euro in France, the Russians will play big on their turf to prove they have nothing to envy the best nations on the planet. Driven by their audience, Akinfeev and his teammates should be complicated to move fast. Slightly more likely than the Russians, the Uruguayans Edinson Cavani will be the favorites of the group, while Egypt's Mohamed Salah should fight for the country for the second place qualifying. Last competitor, Saudi Arabia will have difficulty to make it forwrd and not advance in our view.
Curent Odds - To finish top of Group A
Uruguay - 2.11 Russia - 2.24
Egypt - 7.01 Saudi Arabia - 33.00
Odds - Qualify for the Round of 16
Uruguay - 1.24 Russia - 1.29
Egypt - 2.51 Saudi Arabia - 8.10
Group A - The suggestions of our football panel: URGUAY
Luis Suarez and Edinson Cavani, Uruguay should be the one at the top of this group. Behind, it will be necessary to pay attention to the Egyptians who have shown these beautiful things these last months. Russia would have enormous pressure, so it would not surprise us to fail in the group stage for the benefit of the Pharaohs. If you want a good prediction on this first group, the first place of the Uruguayans will be a suggested pick.
Group B - Spain, Portugal, Iran, Morocco
The Group B is one of the most elevated of the competition. Spain, world champions in 2010 and favorites for a final victory in the starting round of 16. Second, the Portugal team with Cristiano Ronaldo, European champions, they will also be a big factor in the World Cup and will be considered for your betting. Morocco, coached by Hervé Renard, and Iran will have a chance to win the second round also.
Odds - To finish top of Group B
Spain - 1.51 Portugal - 3.10
Morocco - 17.25 Iran - 35.00
Odds - Qualify for the Round of 16
Spain - 1.082 Portugal - 1.15
Morocco - 5.75 Iran - 6.50
Group B - The opinion of our football panel: SPAIN
YES, he odds are not very interesting in this second group. On paper, Spain's Sergio Ramos and Ronaldo's Portugal are favourites, according to the bookmakers, far out front of Morocco and Iran. If we were to advise you on a tip for this group, Spain's first place would be it.
Group C - France, Denmark, Australia, Peru
Group C is the one that will be of great interest to the French, since the team of France is placed with Denmark, Peru and Australia. Finalist of the last Euro and with exceptional talents like Antoine Griezmann, Kylian Mbappé or Paul Pogba, the tricolour group will also be one of the most observed during this World Cup 2018. Denmark's Christian Eriksen will not be easy to move, as we have seen during the qualifying rounds. Australia and Peru will have much to do to qualify, with the two European nations being the favorites.
Ratings – To finish top of Group C
France - 1.34 Denmark – 5.60
Peru – 12.00 Australia - 16.00
Odds - Qualify for the Round of 16
France - 1.060 Denmark - 1.60
Peru - 3.45 Australia - 4.10
Group C - The opinion of our football panel: FRANCE
When we look at the odds, it will not be very interesting to predict the first place of the Blues in this group C. Much smarter however, the pronouncement on the qualification of Denmark will not be underestimated. Peru and Australia seem too low on the odds scale and not worth taking a bet on.
Group D - Argentina, Croatia, Iceland, Nigeria
The fourth group is neutral before the kick-off of the competition. Argentina is the largest nation historically, but we will remember for a long time the Argentine difficulties to qualify for this World Cup in Russia. To be good, Lionel Messi and his teammates will really have to work in a group effort. A group spirit that will necessarily be the main weapon of the Icelanders. Good surprise of the last Euro, Iceland will play a good chance on the Russian lawns and will be quite interesting to observe for its first World. Croatia of Luka Modric will be, like Argentina, expected to do well but will have to raise its level of play a notch. Nigeria is one of the good African nations in recent months, but should have some difficulties.
Ratings – To finish top of Group D
Argentina - 1.60 Croatia – 3.26
Iceland - 12.00 Nigeria – 14.00
Odds - Qualify for the Round of 16
Argentina - 1.17 Croatia - 1.55
Iceland - 3.55 Nigeria - 3.22
Group D - The opinion of our football panel: AGRNETINA ICELAND A GOOD LONG SHOT BET
Complicated to perhaps pick in this fourth group before the start of the competition. If Argentina should get by, the other qualifying place will be more interesting as the three nations are capable of the best and the worst behind. The reliable outcome seems to be the first place of the Argentina. But our panel would try well the qualification of Iceland for the eighths. Endowed with a group spirit oh so important in this great competition and accustomed, Sigurdsson and team could leap into this first phase. It will be a toss up - so lets see. ICELAND IS A GOOD LONG SHOT BET IF YOU WANT A RISK.
Group E - Brazil, Switzerland, Costa Rica, Serbia
In the fifth pool of the 2018 World Cup, it is obviously Neymar's Brazil who will be the huge favourite for the first place. The Brazilians will undoubtedly be the most pleasant to see play on the pitches of Russia. In this group they will be the most expected. Behind the Seleçao, Switzerland's Xherdan Shaqiri and Serbia's Nemanja Matic are expected to fight for second place. Costa Rica Bryan Ruiz will not be far behind, but a bit too fair given his lack of experience in major competition.
Ratings – To finish top of Group E
Brazil - 1.32 Switzerland - 6.50
Serbia – 8.1 Costa Rica - 17.00
Odds - Qualify for the Round of 16
Brazil - 1.06 Switzerland - 2.10
Serbia - 2.25 Costa Rica - 4.55
Group E - The opinion of our football panel: BRAZIL
In this pool, the odds that immediately jump to the eye remain undoubtedly the qualification of the Swiss for the round of 16. Equipped with talented players, like Shaqiri, Xhaka, Lichtsteiner or Bürki, the Nati should not be allowed to step on the feet by Serbia and Costa Rica. Since the Helvetii will play Brazil first, they will however limit the breakage in view of the goal average, so important sometimes. Because do not forget, in case of equality of points the team which will have the best difference of goals will qualify.
Group F - Germany, Sweden, Mexico, South Korea
Group F will be the one of the Germans, world champions in title and favourites to proceed to the final coronation on July 15th. Obviously expected by sports betting sites, Joachim Löw's men will be very complicated to beat in this group stage. It would not be surprising to see them finish with 9 points on the clock. Behind, it looks much tenser to claim the second ticket. Mexico's Javier Hernandez will play on his offensive force, while Sweden will rely heavily on their defense. Finally, South Korea will create surprise but could pay dearly in case of missteps in the first act against the Swedes.
Odds – To finish top of Group F
Germany - 1.44 Mexico - 5.50
Sweden - 6.50 South Korea - 15.00
Odds - Qualify for the Round of 16
Germany - 1.083 Mexico - 2.10
Sweden - 2.25 South Korea - 3.50
Group F - The opinion of our football panel: GERMANY
If you want our opinion, the rating for a first place in Germany is still the wisest to play in this group F. Although low, it is however almost sure to pass and may accompany other odds in a combined odd. Behind, the three teams are too close on paper to decide. In a pinch, the predictions of a Mexican qualification will be the most interesting given the context.
Group G - Belgium, England, Tunisia, Panama
In this penultimate group, it is obviously Belgium and England that are announced qualified in advance. With men such as De Bruyne, Hazard, Courtois and Lukaku on one side, and others of the calibre of a Kane, Alli, Cahill and Dier on the other, Belgians and English will not be easy to knock down. For Tunisia and Panama, even if talent is there on the Tunisian side, we think in particular of Khazri, Sliti and Srarfi, the march seems too high to cross. Panama, miraculously qualified, seems destined for the zero point.
Odds – To finish top of Group G
Belgium - 1.83 England - 2.20
Tunisia - 11.00 Panama - 41.00
Odds - Qualify for the Round of 16
Belgium - 1.12 England - 1.14
Tunisia – 4.50 Panama - 9.00
Group G - The opinion of our football panel: BELGIUM
Predicting a qualification does not make much sense in this group. As we know, Belgium and England should seize the two qualifying tickets, but it remains to be seen who will finish first. The Belgians seem above the English in their quality but also the individual talent. With opening games against Panama and Tunisia, Eden Hazard and others could take the lead over the English before the clash of the last day. Bet on the first place for the Belgians.
Group H - Poland, Colombia, Senegal, Japan
Finally, in the last group of the World Cup 2018, this is again a tight group which is announced with teams of a similar level. In other words, a prediction promises to be complicated. If Poland will rely mainly on Robert Lewandowski to reach the second round, Colombia duo James-Falcao and Sadio Mané Senegal will rest on strong collectives, full of talent. Japan, coached by Akira Nishino, will also be a serious candidate and could surprise his world by starting well against the South Americans.
Odds – To finish top of Group H
Colombia - 2.25 Poland - 2.87
Senegal – 6.00 Japan - 7.00
Odds - Qualify for the Round of 16
Colombia - 1.33 Poland - 1.61
Senegal - 2.37 Japan - 2.87
Group H - The opinion of our football panel: COLUMBIA
In this open group, it will be complicated to see a team to emerge from others. In terms of odds, the most interesting to play will surely be that related to the qualification of Senegal for the knockout stages. Impressive during their qualifiers, the Teranga Lions will arrive masked in Russia, much like in 2002, when they reached the quarter-finals. With men like Sadio Mané, Idrissa Gueye, Kalidou Koulibaly and Moussa Sow, they have in any case a nice playing card. Not to be overlooked when predicting the World Cup 2018 groups.
Favourites of the 2018 World Cup
After seeing the groups, it is time now to focus on the favourites for the final on July 15th. As expected, Germany, Brazil, France and Spain are the four nations voted by bettors. But what will it be?
Germany - Second consecutive win - MAYBE. WE ALSO LIKE BRAZIL and ICELAND as a Long Shot
Positioned in a group largely within their reach, the Germans should manage to take first place in the group stage. Subsequently, Löw's men will be able to fall either against Switzerland or Serbia according to the predictions. Opponents again within their reach. The dynamic could be good for the World Champions in title, who are also able to beat anyone on a match. The man to watch will undoubtedly be the young striker Timo Werner, the eternal Thomas Müller who can become the top scorer in the history of the competition - the Bayern player must score six goals - and of course Manuel Neuer, the most talented goalkeeper in the world. In the opinion of many, a tip on a German victory would be ideal.
The Player to Watch - Timo Werner
Brazil - Back to the top?
After the Germans, the Brazilians will be the second biggest favourites for the title of World Champions. Already winners 5 times of the event, they have carried out a gigantic qualification campaign, rolling literally on the other nations of the South-American continent. With players like Neymar, Coutinho, Gabriel Jesus, David Luiz and Thiago Silva, the Seleçao have great chances to glean a sixth historic coronation. If they take first place in their pool, they will surely face Mexico or Sweden. Widely enough to think about the quarterfinals already.
The player to follow - Neymar
The schedule - Switzerland (17/06), Costa Rica (22/06), Serbia (27/06)
France - At the height of their talent?
Another bookmaker favourite, the French will also be awaited by a lot of people in this 2018 World Cup. After having Euro almost perfect and a qualifying campaign generally controlled, the men of Didier Deschamps have all the cards in hand for to do beautiful things. The talent is there - Griezmann, Mbappé, Martial, Kanté, Pogba, Lloris, Varane - the group spirit too, so why not dream of a second star above the rooster? The first phase is in any case very affordable, and potential opponents in 1 / 8th also (Croatia, Iceland).
The player to follow - Kylian Mbappé
The calendar - Australia (16/06), Peru (21/06), Denmark (26/06)
Spain - Still here?
Last great nation to be the subject of many forecasts, Spain will this time be very strong to compete with the first three countries mentioned. Eliminated in the first round in 2014 and disappointing at Euro 2016 with a small round of 16, The Spanish has raised the bar during qualifying at the World Cup. Interesting in the game, the selection of Lopetegui has spread apart Italy and will again be complicated to beat during the World Cup. In case of first place acquired, Ramos and others could find Russia or Egypt. Widely within reach.
The player to follow - Isco
The calendar - Portugal (15/06), Iran (20/06), Morocco (25/06)
Who will win the 2018 World Cup? Who will be world champion? - The other main ratings
Argentina - 9.10
Belgium – 12.01
England – 20.50
Portugal - 28.05
Uruguay – 41.00
Russia - 40.00
Croatia - 40.00
Switzerland – 81.00
Denmark – 82.00
Swiss – 82.00
Mexico - 101.00
Sweden - 126.00
2018 World Cup - The TOP Scorers
Often favoured by bettors, the predictions of the best scorers of the World Cup are still offered around the 2018 World Cup in Russia. So, who is favourite according to the bookmakers? Who is favoured by our prediction experts?
Top scorer - Odds
Lionel Messi - 10.50
Neymar - 11.50
Ronaldo - 12.01
Jesus - 16.50
Griezmann - 14.50
Werner - 12.50
Kane - 20.00
Griezmann - 14.50
Morata - 20.40
Müller - 20.40
Lukaku - 25.50
Lewandowski - 18.00
Cavani – 25
Suarez – 26
Lewandowski – 34
The opinion of our PANEL:
For this kind of scorers' predictions, we must first have in mind the potential paths of the respective nations. If a player seems stronger in front of the goal than another, but his team is much less likely to make a good run than the latter, it will be difficult for him to finish top scorer of the World Cup. For example, if you think that Lewandowski is better than Timo Werner in front of the goals, but that Poland will make a worse course of Germany, it will avoid your bet. Neymar's rating looks good, like that of Kylian Mbappé. It is up to you to decide.
World 2018 - alternative bets to consider:
The team that can make the final
Germany - 2.40
Brazil – 2.40
France - 3.70
Spain - 3.55
Belgium - 5.50
Continent winner:
Europe - 1.37
South America - 3.50
Rest of World - 34.50
Group from which the winner will be
Group A - 13.20
Group B - 6.25
Group C - 6.25
Group D - 7.50
Group E - 5.55
Group F - 5.00
Group G - 8.00
Group H - 17.50
GOOD LUCK WITH YOUR 2018 WORLD CUP BETS
BET At WickedBET.com FOR BEST ODDS
REMINDER: Always play within your limit and remember there are no guarantees offered when gaming.
See our site for disclaimer and all Tabs.
CASINO GAMES REVIEW and SLOT REVIEWS
INDEPENDENT CASINO REVIEW
MICROGAMING AND NETENT SLOT REVIEW
Both Microgaming and NetEnt are two of the best game providers on the planet - their slots are fabulous. There will be different tastes and it's something that shouldn't be argued. However, when it comes to software providers in the online gambling realm, two names seem to have been around for a very long time, while remaining just as relevant as years ago – Microgaming and NetEnt. So, let's see what makes these two software giants such constants in the world of online slots.
Why Microgaming's Top Rated Slots:
Do you know how Microgaming initially made history? They created the very first online casino software on the internet all the way back in 1994. Yet, here they are even today, maintaining their spot at the very top of the iGaming world.
A mixture of various factors, without a doubt. Their slots have featured diverse themes – from regular fruit slots to some of the most popular slots – but none are more famous or beloved than Microgaming's progressive slots. The uncontested champion among the progressives is surely the Mega Moolah slot, which to this day holds the world record for the largest jackpot ever won in an online casino – €17,879,645.
Microgaming's Mega Moolah slot is amazing.
To witness the quality of Microgaming slots yourself, why not give some of their recent slots a go and see just how worthwhile their features are? Our suggestions for you are the Moby Dick slot, Highlander slot and King Tusk slot.
What Makes NetEnt GREAT:
Once upon a time this Swedish software company may have been more well-known by its full name, Net Entertainment, but nowadays the 'nickname' is one of the most famous game developers in the world. What's contributed to the software's overall fame and popularity?
NetEnt slots are some of the most beautifully designed slots in the industry. Sure, beauty is in the eye of the beholder – or in this case the eye of the player – but the quality of NetEnt's graphics and animations is second to none.
NetEnt slots are some of the most beautifully designed slots available.
Much like Microgaming, another reason NetEnt games are so popular are their progressive jackpots. Everyone likes to win big and you can't win bigger than hitting the largest progressive jackpot at the moment. Luckily, there are several super popular progressive slots that have been known to turn many players into millionaires, most notably the Hall of Gods slot and Mega Fortune slot.
Curious about their recent titles? Make sure you give Finn and the Swirly Spin slot, Planet of the Apes slot, The Legend of Shangri-La: Cluster Pays slot a spin or two and decide after playing.
Have you found your personal favourites among the lesser known providers? Which NetEnt or Microgaming slots are your favourites? Have you ever won big on any of their jackpots that are progressives?
Enjoy your gaming experince using these excellent games with multiple options. ENJOY!
GOZO'S QUEST SLOT REVIEW
Gonzo's Quest is a wonderfully designed video slot by NetEnt. The game takes place on a ship centuries ago as Gonzo (inspired from the famed conquistador Gonzalo Pizzaro) comes across ancien­t Pe­ruvian ruins. The lovely introduction sets the scene for this truly unique 3D video slot. Gonzo's Quest's eye-catching atmosphere and symbols make it one of the most high-tech games around, rivaling slots made by the world's biggest manufacturers.
Spins in this game are a bit unconventional. Fifteen blocks will fall into 3 rows of 5 columns, the familiar video slot pattern. There are 20 compulsory paylines to win. If you get a winning payline, all blocks in that line will crumble, and any blocks they were supporting will fall. This is called an "av­ala­nch­e," and more blocks will pour in to fill the gaps. With each additional avalanche up to four, the win multiplier will increase from 2x, then 3x, and finally 5x. With the avalanche featur­e, G­onzo's Quest unleashes some magnificent wins without even needing to hit the bonus round.
Of course, if you land three Free Fall symbols, you activate the Free Fall feature and get 10 free spins. The avalanche multiplier during these spins is tripled. Additionally, you can retrigger the feature by getting three or more Free Fall symbols during the feature.
Use the "Bet Level" and "Coin Value" buttons to adjust your bet, then hit the circular button in the middle to commence the falling of the blocks. Prepare to conquer your way to some mega fortune with Gonzo's Quest, available for real money play at WickedBET Casino.
JACK HAMMER 2
Alltime favorite video slot comic hero is back for another round in Jack Hammer 2. Save the town's most beautiful lounge singer from the evil Don Crabby as you fight your way to big fortune. Play Jack Hammer 2 for free on this page, or visit any of the NetEnt casinos in our listings to try your luck for real money.
The goal in the base game of Jack Hammer 2 is to get matching symbols from left-to-right along any of the 99 paylines. To boost your odds of turning these line hits into big wins, a potentially endless Sticky Win feature is included. Each time you score a line or scatter hit, the reels will continue to respin until you attain no more winnings. Five or more Free Spin Fish symbols activate free spins with a 2x multiplier and plenty of random wilds. Combined, these two features make Jack Hammer 2 an adventure worth trying.
Before you start on your mission, take the time to choose a bet size you're comfortable with. Use the "Coin Value" panel to change your base coin denomination. Then add coins to each of the game's 99 paylines using the "Bet Level" buttons. When you're ready to begin, push the circular spin button. You can alternatively push "Bet Max" to spin with 10 coins per line, or use "Au­top­lay­" to spin several times in a row without interruption.
Graphics and sound are descent and you could get addicted to this game easly. This is a 5- reels and 50 – paylines video slot and the minimum bet is 0.50 cents. Little 'pricy' but worth a try. Unfortunatelly this game has only one bonus feature and its ' Free Spins ' bonus. You must get 5 or more free spins symbol so you can start bonus feature. You can get between 10 to 20 free spins.
Jack Hammer 2 by NetEnt could be considered as one of the epic video slots and it will never be one of the ' old style ' games. No matter what games we can except in the future this is definitely ' a must play' video slot. Instead of sticky wilds which are common to video slots here we find a very interesting feature which simply rocks this game and its sticky symbols . So called random wilds can appear anywhere on the reels once you activate free spins feature and they will help you out to create more wins.
Each time you get a winning combination on your screen symbols remain sticky on the reels and if there is another winning combination on your next spin these sticky symbols will be added to your wins. But once there is no win symbols are back to its ' normal ' positions. You must know that this feature significantly increase winning percentages and make this game really good.
Wins that you make in Free Spins feature are paying x 2 which is nice. Jack Hammer is the highest paying symbol and if you get 5 of its kind it will pay out 500 coins. Try the original Jack hammer Slot also for fun. Win Big either way on these great online slots.
STARBURST SLOT
Starburst is a top players slot of choice with 10-payline video slot running on the NetEnt software platform. The game's vibrant expanding wild is the Starburst symbol, which will be described in greater detail further . Players can try this colorful slot on this page for free or to play the game for real.
Before spinning the flashy reels, players are advised to regulate their bet. The "Lines" selector allows players to alter the number of pay lines played, while the "Level" selector is used to choose the bet level.
Clicking on the "Coin Value" selector modifies the coin size, which ranges from 0.01 to 1. To start the game, "Spin" needs to be pushed. "Max Bet" will spin the reels at the highest available wager, while "Au­top­lay­" turns them a number of times regularly.
The Starburst wild symbols only emerge on reels 2 to 4. When 1 or more wilds appear on those reels, the Starburst Wild feature is triggered, wherein Starburst wilds expand to cover the entire reel, where they remain while the other reels re-spin. Should a new wild emerge during a re-spin, it expands and stays alongside any prior expanded Starbursts for another respin.
The Starburst feature is over when there are no new Starburst wilds during a re-spin. Up to 2 additional Starbursts can appear after a re-spin, triggering 1 additional re-spin for each appearing Starburst wild for a maximum of 3 new-spins.
Starbust I think is one of the first Netent slots released at the time. This slot has some decent graphics and I like the quiet background music that is on this slot, which gives is a cosmic sound. Very colorful and bright with 10 pay lines and 5 which reels is enough to keep you excited.
The slot has an arcade feel to it and its very old school compare to modern slots that is always based on something these days like a movie, or a person, or something that happened in the world that affected all.
You win can up to x1000 your bet or maybe a bit more, with landing 3 expanded wilds with bar symbols on reels 1 and 5 and during the re-spin If it repeats with the same combination which it will not. I managed to get one full screen of bars, which awarded x500 my bet but you know these rare occasions normally happen on minimum bet.
I think Starburst is a game for pros or new players – all will enjoy!
Immortal Romance
"Rated One of our Top 5 Best Slots at WickedBET"
Experience a haunting love story in Immortal Romance slot, one of the most successful five-reel video slots on the Microgaming platform. As you spin, you'll learn more about the game's characters, and hopefully uncover some big wins with each person's special feature. You can play Immortal Romance slot for free or for real money.
Before you begin your Immortal Romance experience, start by selecting your bet size. Use the - and + buttons under the coin icon and change your bet denomination. Because Immortal Romance slot uses all 243 possible left-to-right combinations, pay lines are not a consideration. Just click Coins to adjust the number of coins wagered, and then "Spin" to begin playing. Or, use "Bet Max" to spin with a 300 coin wager.
The Immortal Romance symbol acts as a wild and will substitute for any of the non-scatter symbols and double the winning combination value. As the reels tumble, various symbols including the game's main characters will tumble down the reels randomly. Get matching symbols from left to right and win amounts shown in the pay table.
The Wild Desire feature can be activated always and result in some BIG WINS! When it is triggered, reels will be turned wild randomly. It's even possible to turn all 5 reels wild, resulting in an excessive payout – try that strategy for sure.
The Bonus round is triggered by getting 3 or more scattered Golden Lions in any position. At first, you will only be able to trigger Amber's feature, which gives you 10 free spins at a 5x multiplier. As you become more experienced with the game, you will unlock additional free spins features from Troy, Michael, and Sarah, each with their own special twists. Get to know these intriguing characters and find out which feature you like best! WICKED.
BLOODSUCKERS II or BLOODSUCKERS SLOT
Blood Suckers is a vampire Style / Themed 25-pay line video slot which runs on the NetEnt software platform. The wild card features a Vampire and a Hot Girl, while the scatter is the Undead Bride symbol. Players can test the slot on this page for free or play for real.
Before starting their own eerie adventure with creatures of the night, players need to adjust their bet. "Bet Level" modifies the bet level and "Bet Lines" alters the number of active pay lines. "Coin Value" is used to select the coin size which ranges from 0.01 to 0.5. "Max Bet" spins the reels at the highest wager and "Auto" turns them multiple times in a row.
3 or more Bloody Hammer Bonus symbols will activate the Bonus Game. Players enter an ancient burial chamber and open coffins to find vampires in order to slay them. Coins are won for every vampire slain. The Bonus Game is terminated when bats fly out of the coffins of choice.
3, 4 or 5 scatters emerging on the reels will award players 10 Free Spins, during which all wins are tripled. Extra Free Spins may be won.
When 5 wild cards occur on an enabled pay line, a jackpot of 7,500 coins will HIT.
Blood Suckers is also one of NetEnt oldest games but I noticed they have updated the game with a smoother gameplay and a better visual effects along with Starburst and others. In earlier years there was a possibility of decreasing the amount of pay lines on most of the games but that possibility is now gone. All games have now a fixed pay lines.
When it triggered, you will be rewarded with 15 free spins and a 3 times multiplier, every win you won will be multiplied by 3, including scatters.
IF you love the VAMPIRES this game is for you! TRY and have fun.
AVALON II
Avalon II is a 243-payline video slot developed by Microgaming as a sequel to Avalon slot. The game takes you on another adventure with King Arthur and the knights of the round-table, however the game play is enriched with 3D animation and superb bonus features!! PLAY FOR FUN OR REAL- go for it.
Before setting off on the quest for the Grail together with King Arthur and his noblemen, you need to adjust your bet. First choose the Coin Size / value. By selecting "Coins", you will adjust the number of coins wagered. Press "Start" to begin the game. To play for a number of times without interruption, you need to click "Auto Play".
Avalon II slot is rich in bonus features.
In the base game, you have 2 randomly triggered features: the Merlin feature, where the character appears randomly awarding a random cash prize or multiplier, and The Expanding Wild feature appears on the middle reel as recommended
The most exciting thing about Avalon II Slot maybe is its Grail Bonus feature which has 8 bonus games within. You trigger the Grail Bonus feature when you hit 3 or more Grail symbols anywhere on the reels. The moment you do that, you will go on a journey through the Kingdom on your quest to retrieve the Grail and return it to Avalon.
Triggering the Grail Bonus feature a certain number of times triggers subsequent bonus games:
Lake of Legend Bonus feature: dice roll bonus game in which you need to try and complete Excalibur by re-forging the sword fragments. The dice will reveal a number associated with a sword fragment number. If there's a match, the sword fragment with the matching dice number moves into the re-forge display. The number you get is equal to the multiplier paid-out.
Misty Value Bonus feature: you choose your wild. You will receive 15 free spins with a 1x multiplier. You get to choose 1 of the high end symbols to act like an extra wild for the duration of the feature – the extra wild has a 2x wild multiplier.
The Dusky Moors Bonus feature will follow displaying 12 items on the screen. You need to match 2 helms of the same type and continue picking until this happens. Each helm has a multiplier ranging from 6x to 20x. Every non-matching pick increase the multiplier from 2x to 8x.
Having played these first two features, you will get to choose between the 3rd and 4th bonus features. In Whispering Woods Bonus feature you pick 1 out of 5 options hoping to get the highest multiplier (160 times). Or you can take up Forest Falls Bonus feature where you will receive 20 free spins with a 1x multiplier. Look out for the Avalon II wild as this is the Trailing Wild. When one of these wilds lands on row 1 or 2 of any of the reels, it will hold in place and expand downwards – it will then hold for 1 spin.
In Hall of Shadows Bonus feature each move will get you a cash prize. If you successfully block or attack, the size of the cash prize varies. You choose the best moves to either block or attack the Black Knight and hopefully retrieve the Grail. Morgan's Keep Bonus feature comes up next awarding you with 20 free spins with a 2x multiplier. Rolling Reels apply here meaning that every consecutive win will increase the multiplier from 2x to 3x to 4x to 5x to 6x. This means you can get a 6x multiplier on every single free spin if you're lucky.
IF, you have the Isle of Avalon Bonus feature where you spin the wheels to win the highest bonus multiplier. You have 4 wheels in total but you can only unlock the 4th wheel if you get a zero on the 3rd wheel. The numbers won on each wheel will form the multiplier award.
GAME OF THRONES
Game of Thrones is a 243 way video slot operating on the Microgaming platform. Done in the style of the famous TV show, the game features various symbols depicting different Westeros Houses. The most important symbols are the wild card, which is the Game of Thrones Logo, and the scatter, which is the Iron Throne symbol. IF you do not like the TV Show Game of Thrones maybe move off this slot and consider another high profile slot machine or online slot.
Players are invited to try the slot on this page for free or real money play. Play between commercial breaks while watching the Game of Thrones TV Show.
To travel through the seven kingdoms of Westeros, players need to adjust their wager first. To select the number of coins wagered, players need to press "Bet" and then the "Coins" arrows. The Coin Size arrows modify the coin denomination, ranging from 0.01 to 0.02. Spin initiates the spinning of the reels and Au­top­lay­ allows players to play the game for a number of times.
When 3 or more Iron Throne icons emerge on the reels, the Free Spin feature is triggered. In this round, 4 Houses of Westeros with Free Spin options are featured. From House Baratheon, Lannister, Stark and Targaryen, players choose 1 House.
Players can choose to click "Gamble" after every win, should they desire to increase their winnings. There are 4 stages in this round: 3-Eyed Raven, White Walker, Direwolf and Dragon. Players choose Heads or Tails and, if they choose correctly, the winnings are doubled and players move on to the next stage. However, if they lose, the feature is over.
In the Free Spin round, each House awards a specific number of Free Spins, a multiplier value and an additional stacked symbol. Players can win up to 18 Free Spins and up to a x5 multiplier value. The symbol for the House they choose is stacked during the Free Spins.
One of the best watched specialty TV series perhaps of all time with the same name, I did followed the series but lost interest when I saw my favorite character was beheaded. BUT picked it up again and got hooked! We also love that dragon lady character with her white/blond hair.
PLAYBOY SLOT
Playboy is a video slot running on the Microgaming platform with 243 different ways to win. Featuring the world's most famous lifestyle magazine, the game's wild card is the Playboy Logo, which is a multiplier icon, and the scatter of the game is the Magazines symbol.
Players can try the slot for free or play for real funds. Playboy is one of the top brands in the world and are big into the Casino world and casino business. IF you like Playboy you should really enjoy this online slot game. It is FUN for sure. With good odds.
To enter the fabulous Playboy Mansion, players need to regulate their bet first. The first button that should be pushed is Bet, which then offers Coins, which selects the number of coins, and "Coin Size", which determines the coin denomination, ranging from 0.01 to 0.25. Choosing to click just "Bet" chooses the total wager. "Spin" starts spinning the reels and "Auto Play" turns them a number of times.
When 3 or more Magazines emerge on the reels, the Playboy Club Bonus game will be activated. Players can play 1 out of 4 Bonus games.
The Kimi Bonus is always unlocked, the Sofia Bonus is unlocked after 5 activations, the Ashley Bonus is unlocked after 10 and the Jillian Bonus is unlocked after 15.
All Bonus games grant Free Spins with additional bonus features. Players reach Platinum status after activating the Bonus game 20 X's.
In the Kimi Bonus game, players receive 10 Free Spins, while all regular wins are multiplied by 5. Free Spins can be re-triggered during this Bonus Game. The Sofia Bonus game awards 15 Free Spins and the round includes the Running Wilds feature.
The Playboy Logo creates a wild symbol stack and for every Free Spin, the wild stack grows by 1 extra symbol per reel. This Bonus game cannot be re-activated during the Free Spins.
In the Ashley Bonus game, one wins 20 Free Spins. The game possesses the Rolling Reels feature, wherein symbols in a winning combination explode and vanish after players have been paid out. The symbols above the exploding icons fill the empty spaces. If the winning combination has resulted from the shifting icons, players are paid out again at a x2 multiplier value.
The multiplier value increases by 1 up to a x5 value. However, if the cascading symbols do not create a winning combination, the multiplier value will be reset to x1. This Bonus round cannot be re-triggered. The Jillian Bonus game awards players 25 Free Spins. This round has a Wild Night feature, which can be triggered at random. In this feature, up to 5 reels are turned into a wild reel.
THE SUPER EIGHTIES SLOT
The Super Eighties is a video slot from NetEnt. The slot features various colorful symbols and imagery characteristic of the 1980's and the wild card is the 80's Wild symbol, while the scatter is the 80's Lady symbol. Multiple wilds will line-up to create Stacked-wilds.
The appearance of 5 wild cards on an enabled payline will win players a jackpot of 1,000 coins.
When 3 scatter icons occur on reels 2, 3 and 4, 5 Free Spins are triggered. During the Free Spin feature, all coin wins are accompanied by a x2 multiplier. 3 more scatter symbols pay one's total bet times 2 and result in 5 additional Free Spins. Once the Free Spin round is over, the total win from the feature is added to any wins from the round that activated the Free Spins.
In order to try the early mobile phones or listen to the music on a walkman, players should regulate their bet first. "Bet Level" adjusts the level of betting and "Bet Lines" is used to alter the number of enabled paylines. Pressing the "Coin Value" button selects the coin size, which ranges from 0.01 to 0.5. The "Spin" button initiates the game, "Max Bet" spins the reels at the highest bet and "Auto" turns them multiple times in a row without any interruption.
SECRETS OF ATLANTIS SLOT
Secrets of Atlantis Slot is a water-themed 40-payline video slot by NetEnt. Based on the fictional island called Atlantis, the game features colorful symbols from the underwater world. This win-both-ways slot has 5 transparent reels set against the ocean background. Players are welcome to try Secrets of Atlantis Slot for free or for real money.
Before you begin the nautical adventure, you are advised to set your bets. Use "Coin value" to regulate the coin size, ranging from 0.01 to 1.
Adjust the coin size using the "Level" selector. "Max Bet" shows the value equal to the number of paylines selected, multiplied by the bet per line value. "Au­top­lay­" is used to adjust the number of times the reels spin without interruption. When you are ready, simply hit "Spin" and start the game.
The game possesses the Nudge Wild symbol which is the Mermaid. It covers 4 positions on any of the reels, therefore it may occur fully or partially depending on how each of the reel turns. In case part of the Mermaid symbol lands on an active payline, it will be nudged up or down until it covers the entire reel.
Likewise, if the Wild lands partially during the Colossal Symbols Respin feature, it will be pushed up or down to cover the whole reel.
A Colossal is a symbol block of 3x4 symbols and it may occur during the Colossal Symbols Respin feature.
The Highlight feature is randomly activated, during which, any of the reels 2, 3, and 4 may be highlighted. If the 3 aforementioned reels are highlighted simultaneously, a Colossal Symbols Respin will be triggered.
During the Colossal Re-spin feature, the reels 2 to 4 transform into one reel with Colossal block of symbols. These symbols may be displayed fully or partially. Players can benefit from this feature since it is possible to land up to 12 Colossal symbols on the middle reels simultaneously, which may significantly increase one's winning percentages.
6 ACROBATS SLOT
Six Acrobats is Asian inspired with 5 reels and 9 pay-line video slot powered by Microgaming. This slot is inspired with Far East and their culture. The design is superb and the reels are black-set on some sort of a stage. Give this slot a spin for free on this page or visit the casino to play for real money.
Game logo is the Wild and it substitutes for all symbols in the game except for the Scatter. The Wild symbol can make winning combos when it substitutes in a win, and once it makes a win with all Wilds substituting the wins will be multiplied by 5, if this happens during Free Spins, wins can be multiplied by 25X's.
Before you take a seat at this show, you should set your bets. By clicking on "Bet" you will your bet on 9 fixed paylines, and it ranges from 0.09 to 22.50. "Spin" will set the reels in motion, and "Autoplay" option is used to turn the reels without interruption for a chosen number of times. If you click on three bars you will open a menu that will allow you to set coins size which ranges from 0.01 to 0.25, and coins per-line.
The Priestess is the Scatter symbol, and if you land 3 or more of these, you will trigger the Free Spins. The number of triggering symbols will determine how many spins you will get. You can win 15, 20 or 25 free spins where all wins are multiplied by 5.
Each additional Scatter will award additional spins. Try this slot you will definitely like it!
THE GLAM LIFE
$3.8 Million Progressive Jackpot on The Glam Life Slot
The Glam Life is a flashy 25 payline progressive slot running on the Betsoft platform. Featuring wealth and glamour, the game possesses several notable symbols, one of which is the scatter in the form of a Jet. Players can try for a demo or for real.
To begin their thrilling life of luxury and style, players should adjust their bet first. Clicking on "Coin Denomination" alters the coin size, which ranges from 0.05 to 1. "Select Lines" modifies the number of paylines played and "Bet Per Line" selects the number of coins wagered per payline. While "Spin" initiates the game, "Bet Max" spins the reels at the highest available bet.
The Travel Around the World Bonus is activated when 3 or more Mansion symbols emerge on the reels. Players select any 3 World Landmarks to travel to in their private jet. Players can have a luxury party in New York, be a VIP guest at a fancy dinner, attend red carpet premiers and more. Once 3 Landmarks have been chosen.
3 or more Jet symbols grant players Free Spins. 3 Jets equal 5 Free Spins, 4 Jet symbols will award players 10 Free Spins and should 5 Jet scatters emerge on the reels, 25 Free Spins will be won. Players continue to choose Ring Boxes until they have revealed 3 matching Stones. In this feature, players can win up to 500 additional credits.
When 3 or more Perfume Bottles occur on an active payline, the Match Bonus is triggered. Curtains drape over the reels, presenting players with 15 Ring Boxes, among which they then need to choose. Selecting any of the Ring Boxes reveals 1 of 3 different Diamonds.
3 or more Necklace Cases activate the Click Me Bonus. Selecting 1 of the available Necklace Cases instantly uncovers one's prize. Players can win up to 1150 credits. This is Just Like Las Vegas Baby. And what happens in Vegas stays in Vegas.
WOW! When 5 Yacht icons occur during the maximum bet, the Jackpot is won baby!!
WE REALLY HOPE ONE OF OUR VALUED PLAYERS WINS ON THIS PROGRESSIVE JACKPOT. IT HAS THE HIGHEST PAYOUT IN THE WORLD THAT WE ARE AWARE OF. ENJOY and GOOD LUCK. #Happy.
GOOD GIRL BAD GIRL SLOT
Good Girl Bad Girl is a 15 payline progressive slot operating on the Betsoft platform. Featuring the theme of the eternal battle between good and evil, the game's wild cards are the Pitchfork and Halo symbols.
Before choosing sides, players should adjust their bet. "Choose Coin" alters the coin size, ranging from 0.02 to 1. Bet Per Line adds a coin to the pay-line bet. "Bet Max" turns the reels at the highest wager. "Au­top­lay­" spins the reels automatically.
The Pitchfork symbol can occur on reels 3, 4 and 5 and can be a x1 to x4 multiplier. The Halo wild occurs on reels 1, 2 and 3 and can be a x1 or x2 multiplier.
When the Pitchfork and Halo symbols emerge side by side, a Click Me Bonus feature is activated. Playing in Good Mode will result in the Good Variant and playing in Bad Mode results in the Bad Variant. If players are playing the Both mode, they choose which mode they wish to play in the bonus game. There are 4 total rounds. WE LUV BETSOFT SLOTS AND BETSOFT PROGRESSIVE JACKPOTS. They just GET IT.
Pressing the Blue Heart activates the Good Mode, the Red Heart starts the Bad Mode and the symbol between the 2 starts the Combo Mode. Good Mode offers low-risk game play. Bad Mode offers high-risk game play with a potential to earn higher total payouts.
Players are presented with 4 gift boxes in the Good Variant. Inside there are a small win, a medium win, a big win and a collect, which ends the feature. The Glowing Gift boxes contain either the small or medium wins, while the non-glowing gifts contain the big win or collect. The same applies to the Bad Variant.
AT THE COPA
Enjoy a nice night drinking & dancing At the Copa Slot, a fabulous 3D video slot by Betsoft. This game features a maximum of 30 pay-lines, a wide variety of paying symbols, and several bonus opportunities. You can experience the "ins and out" of the game for free right here on this page, or play for real money at any of the Betsoft casinos below.
Use the Choose Coin button to set your bet denomination. If you don't want to play all 30 lines, lower the number of active pay-lines with the "Pa­y-li­nes­" meter. Whether you liked the song by Barry Manilow or Dancing at The Copa you should luv BetSoft's At The Copa Slot. It's FUN.
Finally, set how many coins you want to wager on each active line with the "Bet Per Line" panel. When you are satisfied with your bet, push "Spin", or simply push "Max Bet Spin" to play with all lines active and the maximum number of coins per line.
At the Copa offers payouts for matching combinations from left to right in the base game. Regular wilds appear on the 4 outside reels, and an expanding wild can appear on the middle reel. A winning set of Chili symbols will award you one of the game's three progressives.
Three or more Shoe symbols in any position will trigger the free spins bonus with extra wilds and multiplier boosts. Lastly, you can trigger the At the Copa dance feature by getting the game's characters on reels 2, 3, and 4. SPIN At The Copa Online Slot.
AFTER NIGHT FALLS
The After Night Falls Slot : Find out what really happens when the sun sets in After Night Falls. This 3D video slot from Betsoft takes you into the dark streets of the city - where big winnings can be around any corner. You can try After Night Falls for free or for real.
Change your bet denomination with the "Choose Coin" button on the bottom-left. Then, set the amount you would like to bet on each line with the "Bet Per Line" panel. Because of a special bonus feature, we highly recommend playing all 30 lines – however, you can reduce the number of active paylines with the "Pa­yli­nes­" panel. Play with all lines and 5 coins per line with "Max Bet Spin".
After Night Falls offers 2 free spin features. The first is a free spin round that can be initiated with 3 or more Scatter symbols. All wins in the free spins are multiplied by up to 10x. If you get a Magnifying Glass symbol anywhere on the reels, it will act as a Moving Wild and you will initiate a free spin round. For each spin, the Magnifying Glass will move one reel to the left until it falls off, ending the round.
When the game starts, the symbols will fall down the reels and hopefully match up from left-to-right. Winning combinations earn you the amounts shown in the After Night Falls pay table. If you are playing all 30 lines and get a full reel of one symbol, you'll win an instant cash bonus equal to 3x the amount of that symbol's 3-of-a-kind combination. They will then merge and allow 2 more symbols to fall from the top.
To use the basic strategy, look up your hand along the left vertical edge and the dealer's up card along the top. In both cases an A stands for ace. From top to bottom are the hard totals, soft totals, and split-table hands. There are two charts depending on whether the dealer hits or stands on soft 17.
There are also 2 interactive bonus features. Get 3 or more Criminal symbols to help the criminal steal from an apartment. You can catch the criminal in the Investigate bonus, initiated with 3 or more Granny symbols. In this feature, you act as the detective. Find clues, collect evidence, and earn nicely for the work.
Note: Slot Reviews by Ask Gamblers 2018 and adapted or edited slightly for this format
Whatever your likes - we have something for everyone - and know you will have a great casino experience at WickedBET
_____________________________________________________________________________
WHAT OUR CASINO PLAYERS TELL US
Our Casino and Sports Book offers many of these items below. Our Players tell us they like the following:
Free slot machine games, blackjack and of course they typically always play blackjack after most games. They enjoy our blackjack strategy, poker strategy, casino strategy and online games strategy.
They appreciate good odds from a real casino even if they look for, say, a fruit machine or play free slots or for normal online slot games.
Some join our VIP Club while many are just #happy in our online casino playing their favorite slot games at online slot machines. They appreciate other betting sites and of course look for the best casino with the best sports or the best sportsbook or best sports book. We feel we can meet your expectations in the casino and sportsbook world with great odds.
Games that we feature for our valued players include: live casino, all slots, horse racing other betting and of course live roulette or live blackjack or live Dragon Tiger and many others.
We pride ourselves in giving our Players the best casino bonuses, videoslots, slots for fun, slot online, real money slots, and free slot games. PLUS a ton of jackpot or jackpot games, progressive jackpot, many sports bet just like a new casino offers often to compete initially and free slots and hundreds of casino games. Come join the party at our mobile casino or as some in Europe refer to casino as казино.
Our Players tell us they like NetEnt and Microgaming, Evolution and BetSoft games while appreciating football prediction, F1 and F1 bets and most football betting. They think this mix adds to the party feeling within any good online casino.
Always enjoy WickedBET via either free play, demo play or online slots real money play and no matter what you can always betonline with great betting odds.
Some of the odds available are for Football or the NFL, NHL, MLB, NBA, Premier League, Champions League, Football in Spain, Portugal, Brazil, China, Asia, Beijing and other markets around the world like India or South America.
Players who play with real money tend to play blackjack, game on high waggers, 21 and other card game like texas holdem at our casino often called holdem texas or holdem online while promoted by the world series of poker or other holdem poker events.
Poker online is now huge. Many like free texas holdem or just play texas holdem anyway they can such as on various table games especially if they can betlive or experience live casino or at sites like ours that are WICKED.
We of course think we are one of the best gambling sites available especially for new betting sites and players looking for a great sportsbet or app while on a sportsbet mobile site like ours. We know we are one of the best betting sites and compare with all competitors with online betting sites.
Our staff for fun often during their breaks at work like to play craps and blackjack or enjoy watching the horse betting. Many play and demo our baccarat games even though they are not allowed to actually bet on our online casino it is still fun to demo online baccarat with dreams of playing in Las Vegas one day.
Whatever your likes - we have something for everyone - and know you will have a great casino experience at WickedBET
GOOD LUCK AND WE HOPE YOU WIN BIG
HAVE A WICKED TIME